Once you have your samples in hand & with your approval, you're ready to move into production. Your sampling merchant will hand them over to the production team to start preparing your fabrics, accessories, and labels for bulk.
To ensure that every order meets the highest export quality standards, all orders are constructed using high-speed German and Korean machines. No matter your request, all of our production follows a tried and tested cycle until the orders are ready for quality control inspection.
We work with international body sizes, so please refer to our Size Guide
We offer a low minimum order quantity of 300 units, 30 per style and 3 per size and colour.
For example, ten designs in several colours &/or prints in three or four sizes.
In most cases, timelines depend on whether you're dyeing or printing fabrics.
We receive many requests for natural clothing collections mixed with some knitwear, Swim or Active/Yogawear designs. In most cases, we can accommodate.
If you're looking to add some Knitwear, swim or Activewear, then the MOQ is 500 units as long you place 30 units per design, three pcs per size & colour. 
Don't hesitate to contact us as we know mixing collections & MOQs are sometimes complex.
SAMPLE APPROVED - LET'S BEGIN
As soon as you are ready to place your bulk PO, the approved samples must be returned unless you requested two sets. 
If you only requested one set, these need to be sent back by courier to check any fit notes. This adds courier fees & import taxes to Bali.
If you ordered two sets, the second one stays in the office to start your production order. Since we only charge wholesale on the second set, making two sets costs about the same as producing one since courier fees and import taxes aren't involved.
On our Delivery page, we explain the best way to send packages. 
If you haven't yet priced your Collection or begun sampling, you will find all the information you need on our Get Started page
Once you're clear on your designs in the colours and prints you want them produced in, you're ready to place an order by filling in our Bulk Order Form. Once received, we will send you an invoice to begin production. 
Should anything be unclear, you will hear back from us to discuss the issue.
Natural fabrics clothing collections require a fabric label. Please send us your brand logo in Vector Format AI, EPS, TIFF, or SVG if possible. If you find this complex, then send us over what you have, and our graphics team will adjust as we require, in most cases free of charge.
As there are thousands of accessories you can add, just let us know what you're looking for, and we'll let you know if they're available in Bali. If not, you'll have to source them yourself & we'll help with purchase & import.
To protect your designs, you may request we sign an NDA (Non-disclosure agreement)
 This agreement is legally binding & protects your designs, referred to as your intellectual property. Download our NDA template
IN HOUSE & INDEPENDENT QC
Each order is checked through three layers of quality control before it is dispatched. We never ship orders overseas unless the production quality matches your approved samples. However, many brands prefer independent quality control for extra peace of mind. If you take into account the minimal cost of this service to the value of your order, it's definitely worth considering.
Rebecca Jane from the UK has a team in Bali that checks orders every day at the factory. Should Rebecca's team find an issue, she will contact you directly.
She has a degree in fashion design and worked for Victoria's Secret.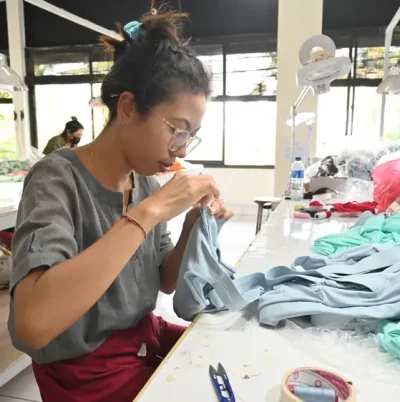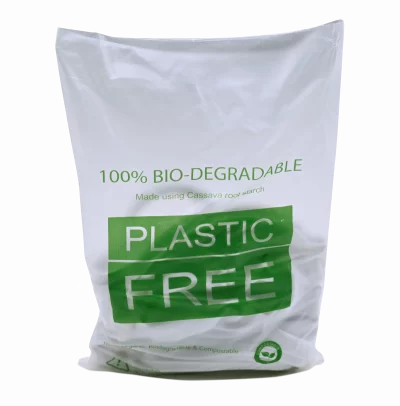 Our orders are individually packed into biodegradable bags by codes, colours & sizes, ready to be sold as soon as they arrive.
We ship orders via DHL or FedEx using our company account or yours. From the time of uplift to delivery, please allow 4-7 working days.
Read more in our Dispatch Page.